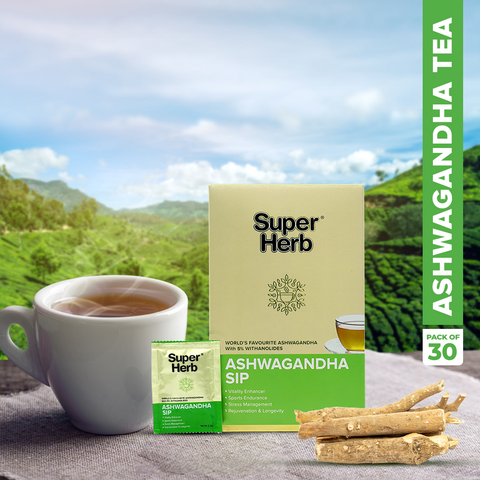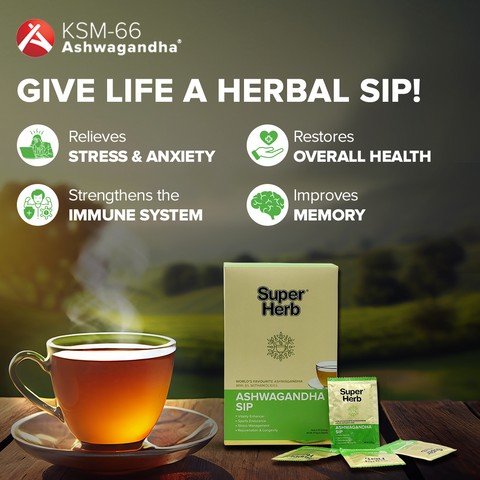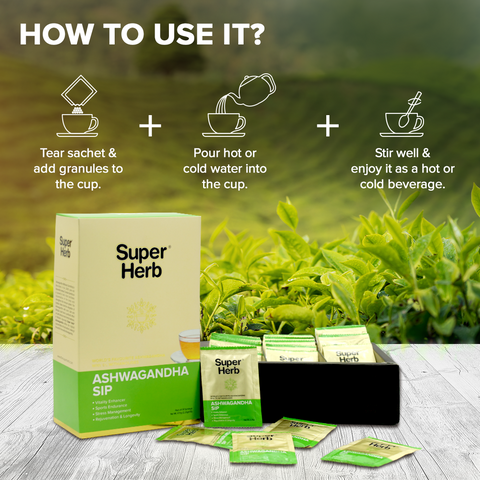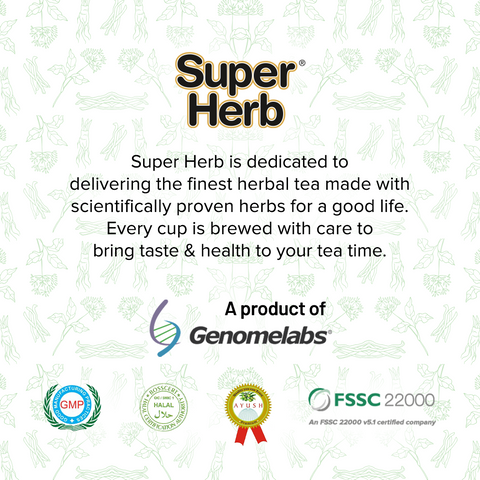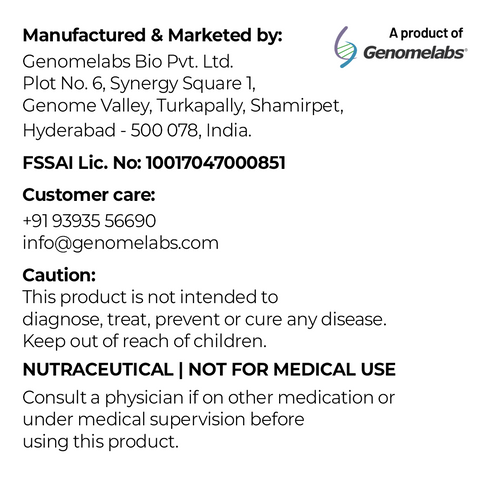 Super Herb Ashwagandha Tea
Rs. 599.00
Rs. 749.00
you save Rs. 150.00
Description
Super Herb Ashwagandha Tea is formulated with natural Ashwagandha extract (KSM-66) with 5% Withanolides to help you unwind after a busy day and rejuvenate. Every sip of Ashwagandha tea helps to manage your fatigue levels while enhancing endurance, vitality & memory to improve your overall health.
Benefits
• Ashwagandha Extract (Withania Somnifera with 5% Withanolides)

• When to drink?: Drink 1-3 cups daily. It is recommended to drink it in the morning for a productive day and in the evening to rejuvenate after a busy day.

• Manages fatigue levels: Super Herb Tea is infused with KSM-66 Ashwagandha extract to help your fatigue level after a long day of work in addition to calming your mind, energizing you to go through the day and rejuvenating you after a busy day of work.

• Helps to rejuvenate: Every sip has essential and pure ingredients well-known as vitality & endurance enhancers to ensure rejuvenation and longevity.

• Super Herb Tea is unique: The presence of the KSM-66 Ashwagandha extract makes the tea unique & incredibly healthy for your overall health. The unique ingredients make a refreshing cup of tea for you to relax yourself by calming the mind & enhance your vitality, endurance, & immunity.

• Unadulterated & Pure: Have a refreshing start to the day with this pure & unadulterated tea packed with essential herbal extracts with no added sugar, flavor, color & preservative. It is completely safe to drink daily & is non-addictive.

• Store in a cool & dry place, away from direct sunlight.
About This Item
Brand: Super Herb
Item Form: Tea
Diet Type: Vegetarian
Flavor: No Added Flavor
Product Benefits: Helps to calm the mind, strengthen the immune system, improve overall health & more.
Age Range: Adult
Specific Ingredients: Ashwagandha extract (5% Withanolides)

Ingredients
Ashwagandha Extract (Withania Somnifera with 7% Withanolides), Excipients: q.s
"Good health and good sense are two of life's greatest blessings."